Home St. Sprouted Sunflower Paleo Bread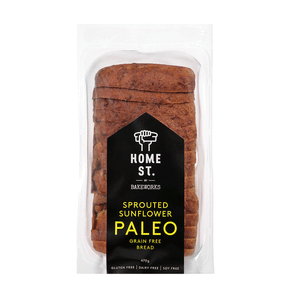 Product Information:
Home St. Gluten Free Paleo Sprouted Sunflower Bread is made with organic sprouted sunflower seeds for better nutrient absorption and a special blend of paleo friendly flours for lower carbohydrate intake. Another step closer to providing better nutrition through our baking.
Pack Size:
7.5 Servings Per Package, 470gm. Serving Size 63gm.
Ingredients:
Water, Tapioca, Almond Meal, Free Range Eggs, Sprouted Sunflower Seeds* (7%), Ground Linseed, Coconut Oil, Coconut Flour, Coconut Sugar, Green Banana Flour*, Apple Cider Vinegar*, Salt (Iodised), Yeast, Guar Gum, Flax Seed Fibre*, Psyllium Husk, Citrus Fibre        * CERTIFIED ORGANIC INGREDIENTS
Nutritional Information:
Avg Quantity Per Serve
Avg Quantity Per 100gm
Energy
662 kJ
1050 kJ
Protein
6.6g
10.5g
 - Gluten
0.0g
0.0g
Fat, Total
9.2g
14.6g
Saturated
2.3g
6.3g
Carbohydrate
12.2g
19.3g
Sugars
0.8g
1.2g
Dietary Fibre
3.5g
5.6g
Sodium
207mg
328mg
* Average quantities.
Contains Egg and Tree Nuts (Almond Meal). Produced in a gluten free bakery that also produces products containing dairy & nuts.
Our bread has a 3 day shelf life once opened.  Keep refrigerated to extend life.  Suitable for freezing.