Home St. Good Gut Sourdough Bread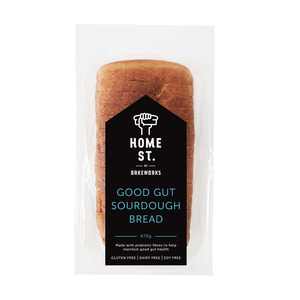 Product Information:

Home St Good Gut Sourdough has been specifically developed to deliver a diverse and quality range of PREbiotic fibres to help maintain and improve overall gut health.
The quality of what we use is, as always very important to us, as with all things we consume, if we put the good in, we get the good out.
We have selected and bake tested with various PREbiotic fibres to develop a product that can deliver the diversity the gut needs to support overall  good gut health.
Per serving of 2 slices ( 63g) we are delivering 6.9g of total dietary fibre of which 5.7g is insoluble and 5.7g of resistant starch.
Most of us don't eat enough fibre per day, which is recommended by the MOH at 25g for women and 30g for men each day.
Just one serve per day ( 2 slices at brekkie) will cover 27% of the recommended  daily fibre intake for women and 23% of recommended daily fibre for men.
Kids not getting enough fibre either? Believe it or not, from 4-8 years the wee ones need 18g of fibre p/day and then from 9-13 years, for boys it's recommended 28g p/day and for girls in the same age bracket it's 20g p/day. (MOH guidelines)
This loaf has been formulated to appeal to kids of all ages (we have ruthlessly tested it on our children😊)
We have hidden the fibres, so they have no clue they are eating healthy and developed the taste to appeal to the whole family.
So all in all, a healthy daily bread the whole family will enjoy , whilst at the same time delivering the fibre levels and PREbiotic effects the gut needs to maintain and develop a healthy system.
You can always trust Home St. made 😊
Pack Size:
7.5 Servings Per Package, 470gm. Serving Size 63gm.
Ingredients:
Water, Modified Tapioca Starch, Maize Starch (Resistant Starch), Coconut Sourdough Starter (Filtered Water, Coconut Flour), Brown Rice Flour, Sorghum Flour, White Rice Flour, Sunflower Oil, Apple Cider Vinegar, Rice Malt, Besan Flour, Coconut Flour, Free Range Egg, Green Banana Flour, Psyllium Husk, Coconut Sugar, Fresh Yeast, Guar Gum (412), Iodised Salt, Flax Fibre, Citrus Fibre

Gluten & dairy free.  Contains Egg.  Produced in a dedicated gluten free bakery handling dairy, egg and nut products.  May contain traces of sesame.
NUTRITION INFORMATION
PRODUCT: 
Good Gut Sourdough Bread 470gm
SERVINGS PER PACKAGE:
7.5
 
SERVING SIZE:
63g net (2 Slices)
 
 
AVERAGE QUANTITY PER SERVING
AVERAGE QUANTITY PER 100GM
ENERGY
591 kj
938 kj
PROTEIN
2.7 g
4.3 g
GLUTEN
0.0 g
0.0 g
FAT, TOTAL
2.7 g
4.3 g
  SATURATED
0.6 g
0.9 g
CARBOHYDRATE
19.3 g
30.6 g
  SUGARS
1.1 g
1.7 g
DIETARY FIBRE
6.9 g
10.9 g
  Soluble Fibre
1.2 g
1.9 g
  Insoluble Fibre
5.7 g
9.0 g
  Resistant Starch
5.7 g
9.1 g
SODIUM
227 mg
360 mg
* Average quantities
Our bread has a 3 day shelf life once opened.  Keep refrigerated to extend life.  Suitable for freezing.