Home St. Sprouted Pizza Base 10" - 2 pack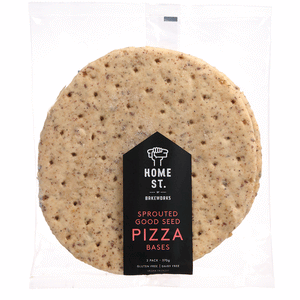 Product Information:
Home St. handcrafted gluten free Pizza Bases are made using sprouted and activated seeds. They are ready to use to make creative pizza's the whole family will enjoy! They come in a handy 2 pack.
Pack Size:
12 (6 per base) Servings Per Package, 370gm net. Serving Size 31gm net.
Ingredients:
Water, White Rice Flour, Maize Starch, Modified Tapioca, Tapioca Starch, Sunflower Oil,  Activated Seeds (4.8%) (Linseed, Canihua*, Pumpkin*, Chia), Sprouted Seeds (4.5%) (Sunflower*, Sesame*, Amaranth), Coconut Flour, Rice Malt, Sorghum Flour, Besan Flour, Apple Cider Vinegar*, Guar Gum (412), Salt (Iodised), Yeast, Flaxseed Fibre, Xantham Gum (415), Psyllum Husk, Citric Acid (Vitamin C)                *CERTIFIED ORGANIC INGREDIENTS
Contains Sesame.  Produced in a gluten free bakery that also produces products containing dairy, egg & nuts.
Nutritional Information:
Avg Quantity Per Serve

% Daily Intake* Per Serve

Avg Quantity Per 100gm
Energy
307 kJ
3.5%
992 kJ
Protein
1.6g
3.2%
5.1g
Gluten
0.0g
0.0g
Fat, Total
3.3g
4.6%
10.6g
Saturated
0.5g
2.0%
1.6g
Carbohydrate
11.5g
3.7%
37.1g
Sugars
0.6g
0.7%
2.0g
Dietary Fibre
3.5g
11.6%
11.4g
Sodium
43mg
1.9%
140mg
Potassium
99mg
3% RDI
320mg
Vitamin B1
0.04mg
3.6% RDI
0.14mg
Vitamin B6
0.05mg
3.1% RDI
0.17mg
Iron
0.4mg
3.3% RDI
1.4mg
Magnesium
15mg
4.7% RDI
49mg
Manganese
0.20mg
4% RDI
0.66mg
Percentage Daily Intakes are based on an average adult diet of 8700kJ. Your daily intakes may be higher or lower dependent on your energy needs.
*Recommended dietary intake.
Our bases have a 3 day shelf life once opened.  Keep refrigerated to extend life.  Suitable for freezing.