Home St. Sprouted Good Seed Bread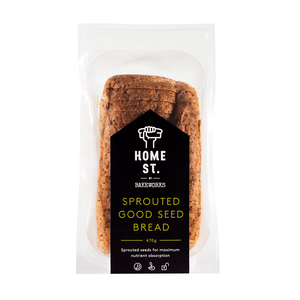 Product Information:
Our new Home St. Gluten Free Sprouted Good Seed Bread is so nutritious and healthy attributing to a good percent of your daily dietary needs. Go sprouted gluten free bread!
Pack Size:
7.5 Servings Per Package, 470gm. Serving Size 63gm.
Ingredients:
Water, Modified Tapioca, Coconut Flour*,  Maize Starch, Sprouted Seeds (6.2%) (Sunflower*, Sesame*, Amaranth), Activated Seeds (5.1%) (Pumpkin*, Linseed, Canihua*, Chia)  Sunflower Oil, Brown Rice Flour*, White Rice Flour, Apple Cider Vinegar*, Rice Malt,  Sorghum Flour, Besan Flour, Free Range Egg White Powder,  Psyllum Husk , Coconut Sugar,  Guar Gum, Yeast, Salt, Flax Fibre, Citrus Fibre                       * CERTIFIED ORGANIC INGREDIENTS
Contains Egg & Sesame.  Produced in a gluten free bakery that also produces products containing dairy & nuts.
Nutritional Information:
Avg Quantity Per Serve

% Daily Intake* Per Serve

Avg Quantity Per 100gm
Energy
573 kJ
6.6%
910 kJ
Protein
3.7g
7.4%
5.9g
Gluten
0.0g
0.0g
Fat, Total
4.8g
6.8%
7.7g
Saturated
0.7g
2.9%
1.2g
Carbohydrate
20.0g
6.4%
31.7g
Sugars
1.0g
1.0%
1.6g
Dietary Fibre
6.2g
20.0%
9.8g
Sodium
126mg
5.5%
200mg
Potassium
201mg
6% RDI**
320mg
Vitamin B1 (Thiamin)
0.10mg
9% RDI**
0.16mg
Vitamin B6
0.26mg
16% RDI**
0.41mg
Iron
1.0mg
8.3% RDI**
1.6mg
Magnesium
36mg
11.2% RDI**
58mg
Manganese
0.50mg
10% RDI**
0.80mg
* Percentage Daily Intakes are based on an average adult diet of 8700kJ. Your daily intakes may be higher or lower dependent on your energy needs.
** Recommended dietary intake.
Our bread has a 3 day shelf life once opened.  Keep refrigerated to extend life.  Suitable for freezing.