Home St. Sprouted Sunflower Keto Bread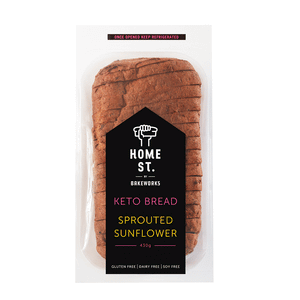 The future of bread is bright! Welcome Sprouted Sunflower Keto to the family.
At 0.9g net carbs per serve and with the nutritious goodness of our in-house sprouting, we've hit it out of the park. Home run.
No added fat, no added sugar, just a nutritious blend of keto friendly ingredients. 
Welcome back to better nutrition.
Gluten free - Dairy free - Soy Free - Low Net Carbs
Ingredients:  Water, Almond Meal, Sprouted Sunflower Seeds (13%), Free Range Egg White, Coconut Flour,  Vegetable Gum (Xantham Gum), Chia Flour, Organic Apple Cider Vinegar,Psyllium Husk, Ground Linseed, Hemp Protein Flour, Flax Seed Fibre, Yeast, Salt (Iodised), Vegetable Gum (Guar Gum), Citrus Fibre                                                  
NUTRITION INFORMATION
 
PRODUCT: 
HOME ST. KETO SPROUTED SUNFLOWER BREAD 430g
SERVINGS PER PACKAGE:
7.5
 
SERVING SIZE:
57gm net (2 Slices)
 
 
AVERAGE QUANTITY PER SERVE
AVERAGE QUANTITY PER 100GM
Energy
561 kJ
985 kJ
Protein
9.8 g
17.2 g
   Gluten
0 g
0 g
Fat, Total
9.0 g
15.8 g
Saturated
1.2 g
2.1 g
Carbohydrate
0.9 g
1.5 g
      Sugars
0.6 g
1.0 g
Dietary Fibre
8.4 g
14.8 g
Sodium
222 mg
390 mg
 
*LOW NET CARBS in comparison to Bakeworks Wholemeal Loaf (47.4 g per 100/g).
Contains Egg and Nuts (Almond).  Produced in a gluten free bakery that also bakes products containing dairy and sesame.   
Once opened, keep refrigerated.  Our Keto bread has a 7 day shelf life under these conditions.  Suitable for freezing.